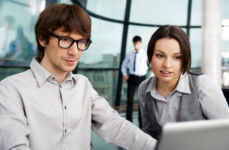 Virtual and in person program takes place June 13-16, 2022. Deadline for participant applications was April 15, 2022.
* Work Experience Program – Closing the Disability Employment Gap, is a collaborative effort between the Massachusetts Office on Disability (MOD) and the Human Resources Division (HRD) to introduce job-ready candidates with disabilities to the world of state government.
Work Experience Program with the Massachusetts Office on Disability provides an opportunity for people with disabilities to get real-world exposure to work experience in state government.
 * Host agencies have the opportunity to meet job-ready candidates and expose them to the important work of their agencies.
 * Participants are individuals 21 years of age or older who identify as a person with a disability and meet minimum education requirements.
* Hosts must be agencies within the Executive Office of the Commonwealth of Massachusetts.
* Participants are matched with Commonwealth host agencies based on their interests and career goals.
*  Each day, participants will meet with a representative from the host agency to learn about the agency's work, different roles within the agency, and skills and experience necessary to begin a career working for the Commonwealth of Massachusetts.
* The Program may be held virtually or in-person, depending on the preferences of host agencies and participants.
To fill out the online application to apply as a host agency or to apply as a participant visit www.mass.gov/info-details/work-experience-program   or contact (617) 727-7440  
.