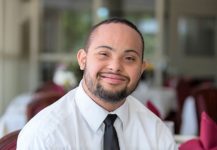 Webinar, April 13th, 2022, with the UMass Lowell Center for Autism Research & Education. Free and Open to the Public. The UMass Lowell CARE Expert Speaker series hosts professionals from around the country to provide information on topics related to helping individuals with autism and the field of Applied Behavior Analysis.
SPEAKER: Bonnie Rivers, Director of Employer Relations, Work Without Limits, UMass Chan Medical School/Commonwealth Medicine
* There are numerous misconceptions, myths, and stereotypes that surround disability and work.
* Discuss how to emphasize that disability can be a unique qualification for employment and how to translate that into the value proposition for businesses to include people with disabilities on staff, as customers, and suppliers.
* This workshop for all audiences, but particularly candidates with disabilities, their family members, and employment service providers committed to improving the disability employment landscape.
* Employers seeking to increase their disability inclusion capacity would also benefit.
* These events are co-sponsored by CARE, the Master of Science in Applied Behavior Analysis and Autism Studies program, and the Interdisciplinary Minor in Disability Studies.
To RSVP visit www.uml.edu/Research/Autism/news-events/ or contact Ashleigh_hillier@uml.edu for Zoom link.