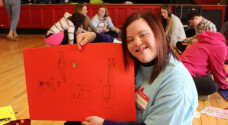 Virtual Meeting on March 20th, 2022, 12:00pm – 1:00 pm for Parents of Children ages 13 – 22 with Down Syndrome. Free.
* The Massachusetts Down Syndrome Congress's Advocates in Motion (AIM) program provides an inclusive, interactive events each month for teens and young adults ages 13 to 22.
* AIM participants develop self-advocacy and leadership skills, form meaningful relationships with peers, and begin to develop their own vision for a meaningful future. and their families.
Parent-to-Parent discussion: Parents and caregivers of transition age youth with Down syndrome, ages 13 to 22, to join in for a monthly session. Learn about different transition-related topics and connect with others

MARCH 20th, 2022 TOPIC: Parents and caregivers of individuals with Down syndrome ages 13+
are invited meet on Zoom to learn about various Massachusetts Department of Developmental Services adult service models, including:
*Traditional Day and Employment Programs
*Participant-Directed Programming
* Agency with Choice.
SPEAKER: meet with Amy Nazaire, the Regional Director of Family Support in the Northeast Region. Amy has extensive experience working with individuals and families and looks forward to sharing her knowledge and answering questions from parents and caregivers.
Registration is required to https://mdsc.zoom.us/meeting/register/tZEudeqrqj8iEtBT1yx9t27oKdjsVz8_z8vf or visit www.mdsc.org/programs/AdvocatesInMotion.cfm
or https://mdsc.org/event or contact contact Colleen Endres cendres@mdsc.org
* For some meetings Scholarships are available; contact Colleen Endres cendres@mdsc.org
* Families that are unable to commit to the full program but would still like to join in on socials from time to time can sign up as an AIM Friend for $25.