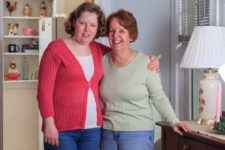 Webinar, November 9th, 2021, with Family Empowerment of Hadley, MA. Charting the LifeCourse Framework was created by families to help individuals and families of all abilities and all ages develop a vision for:
a good life
to think about what they need to know and do
identify how to find or develop supports
discover what it takes to live the lives they want to live.
Individuals and families may focus on their current situation and stage of life but may also find it helpful to look ahead to think about life experiences that will help move them toward an inclusive, productive life in the future.
* By the end of this webinar, participants will:
 – Know how the requirements for transition assessment can be addressed using Charting the LifeCourse (CtLC) tools.
 – Understand how information gathered can be used to support the requirements for transition services.
– Be able to identify one CtLC tool and share one idea about how to use this tool to support transition-aged youth.
Event registration: contact contact Michelle Mendes, Family Empowerment
michelle.mendes@pathlightgroup.org