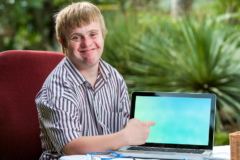 Webinar, October 5th, 2021, with the Massachusetts' Department of Developmental Services Southeast Learning and Development. DDS 101 Disability Transition-to-Adult Workshop – What should you know about DDS as the transition from high school to life after high school approaches?
This free workshop will focus on the following topics:
ELIGIBILITY: How do I become eligible for DDS Services?
AREA OFFICE: What is the role of the DDS Area office?
FAMILY SUPPORT: What can Family Support provide to my family, and what are the limitations?
SELF-DIRECTION: What are Self-Directed Services? How do they differ from Traditional Services?
AUTISM SERVICES: What support is available to my family member with autism, and how do we access it?
To register or for more information visit http://events.r20.constantcontact.com/register/event?llr=hjcuxexab&oeidk=a07eiip8r2g3410f8ec or contact Becky Morrissey, DDS Southeast Learning and Development
774-384-4988, dds.southeasttraining@massmail.state.ma.us