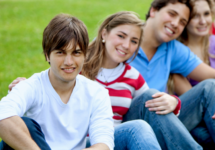 Webinar, October 23rd, 2021, with the Federation for Children with Special Needs in Massachusetts. Youth Consultants from the Federation for Children with Special Needs will lead a virtual discussion for
transition-aged students and young adults with disabilitie sabout how to become more involved in their
communities.
Talking With Self-Advocates About Getting Involved In Your Community
* FCSN's Youth Consultants  will share personal experiences and answer questions about pursuing interests, finding social groups, and job opportunities.
* About Your Hosts:
Ashley Purdy is from Westfield, MA. A recent graduate of Perkins School for the Blind, she has participated in service organizations and clubs.
Celia Walsh is a self-advocate from Duxbury, MA. She was the Director of Best Buddies at her high school and is a frequent presenter to organizations.
Facilitator: Rebecca Davis, Transition Projects Director
Kamisha Heriveaux is from Canton, MA. She is currently the Self-Advocate Content Expert at Mass Advocates Standing Strong (MASS).
To register or for more information visit Registration:
https://fcsn-org.zoom.us/meeting/register/tZcpd-2prT8pHdNmxu1bKCfOLGK4jtfjqZLy or contact info@fcsn.org
The Federation for Children with Special Need provides information, support, and assistance to parents of children with disabilities, their professional partners, and their communities. They are committed to listening to and learning from families, and encouraging full participation in community life by all people, especially those with disabilities.