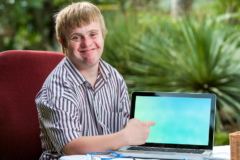 Webinar, December 2nd, 2021, with the Massachusetts' Department of Developmental Services Central Middlesex Area Office and
Regional Support Centers. Planning Together And Turning 22:
Helping Families Understand How To Navigate The Transition From High School
To Adult Service Support.
Learn about: 
ELIGIBILITY: How do I become eligible for DDS Services?
The 688 referral process.
DDS Application & Eligibility for Adult Services
Self – Direct ion and Agency with Choice Programs
The Northeast Arc Autism Support Center
Northeast Arc Autism Support
Riverside Community Care Family
Update on DDS Services during COVID – 19 and workforce crisis
Speakers:
• Michelle Algeri , Central Middlesex DDS, Support Center, 688 Referral Coordinator
•  Kim Caezza , Central Middlesex DDS, Autism Service Coordinator
•  Kristen D'Andrea , Riverside Community Care , Director of the Family Support
• Daphne Thompson , Northeast Arc Autism Support Center, Adult Autism Specialist
To register or for more information visit  https://concordps.zoom.us/meeting/register/tJErcuCopzgqH937jA4fLRxfK9XaM-tJHgA-   or