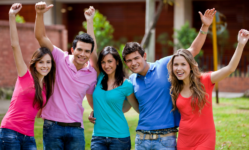 Deadline to apply is June 30th, 2021, with the Massachusetts Rehabilitation Commission (MRC). Free. Program runs from July 12 – September 27th, 2021. Develop leadership and career readiness skills, make connections, and have fun.
*  Young Leaders Rising Program is for high school students, ages 14-22, with any type of disability, that leverages both live virtual workshops and an online learning community to develop leadership and career readiness skills.
 * YLR participants build leadership skills and leave better prepared for future employment, higher education, and independent living.
 * YLR features a range of activities and events emphasizing employment and career readiness skill, and including workshops on
job searching
networking
interview skills
setting career goals, and
accessing available resources
These activities and workshops are opportunities for youth to acquire, expand, and practice their job readiness skills, vocational knowledge, and ability to access resources related to employment.
* In addition, YLR participants learn about topics including
disability pride
assistive technology
independent living
higher education
legislative advocacy
the Disability Rights Movement.
There are also numerous social and recreational opportunities, allowing participants to build relationships with peers along with mentors, collaborators, and disability advocates.
To learn more, visit https://www.pyd.org or contact Kristin Humphrey , (617) 556–4075 x121 or khumphrey@pyd.org.