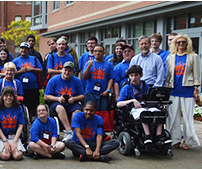 Application Deadline – April 30th, 2021. Virtual Event, June 14th – 28th, 2021. The Youth Leadership Forum (YLF) is for youth and young adults with disabilities held annually in Massachusetts and other states across the country. YLF participants build leadership skills and leave better prepared for future employment, higher education, and independent living.
 * Delegates are youth with a disability who are between the ages of 16-22.
* Peer Leaders are young adults with a disability between the ages of 18-25.
 * YLF participants participate in both small and large group discussions and workshops on such topics as:
• Employment skills
• Advocacy
• Disability pride
• Career Mentoring
• Independent living
• Disability services
Accommodations available.
To learn more, visit www.PYD.org or https://www.pyd.org/programs/youth-leadership-forum/  or contact Susan Nicastro, YLF Director, at (617) 556–4075 x113 or ylf@pyd.org