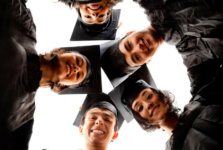 March 23, 2021, 6:00 p.m., with the Southeast Regional Manager Self-Directed Services / Middleboro the Massachusetts Department of Developmental Services (DDS).
* Free. This "DDS 101 Training" educates families on what you should you know about DDS as the transition from high school to life after high school approaches.
* Topics:
ELIGIBILITY – How do I become eligible for DDS Services?
AREA OFFICE – What is the role of the DDS Area office?
FAMILY SUPPORT – What can Family Support provide to my family,
and what are the limitations?
SELF-DIRECTION – What are Self-Directed Services? How do they differ from Traditional Services?
AUTISM SERVICES – What support is available to my family member with autism, and how do we access it?
To register or for more information visit https://conta.cc/3saUVX0 or contact Ed Wilson, Southeast Regional Manager Self-Directed Services with any questions: Edward.B.Wilson@mass.gov, 508 866 8864