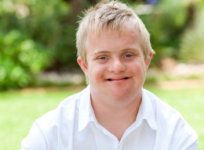 On-Line Event, February 13th, 2021 with Mass Advocates Standing Strong. MASS is a state-wide, self-advocacy organization run for and by people with intellectual and developmental disabilities.
* Your Ideas Count is the theme for the 2021 Conference. This conference is a celebratory presentation of ideas and topics important to self-advocates and people of all abilities.
* Take part in workshops and learn new skills while having fun with friends old and new.
Keynote Speaker: Liz Weintraub has a long history of leadership in self-advocacy. She is a full-time member of the AUCD's policy team and the host of Tuesdays With Liz: Disability Policy For All, where she attempts to make policies in accessible language so the policy is accessible to all.
To register or for more information visit https://ma-advocates.org/
or contact info@wearemass.org.
                                    * Workshop Topics include
 1)   Accessible Martial Arts Program – The Accessible Martial Arts Program is designed for people of all ages, both with and without disabilities, who want to learn and practice self-defense, stretching, exercise, and relaxation techniques. In this demo session, instructors from Easter Seals will introduce participants to some basic blocks and strikes.
2)  Creating a Meaningful Life Through Self-Direction – In these uncertain times we are faced with many challenges, but we also have many opportunities for growth. In this workshop, the presenters will share how they used self-direction to create and maintain meaningful lives in the midst of a global pandemic.
3). Collette's Advice on Becoming Independent – "No one ever made a difference by being like everyone else." In this inspiring workshop, self-advocate Collette Divitto will share her story of how she started her own business and created her path to independence.
4). Disability Inclusion in the Workforce and Community – Everyone wants to feel like they are being included in their community, but this is sometimes easier said than done. In this presentation, self-advocates will share their insights on how employers and self-advocates can work together to create inclusive environments for everyone.
5). Healthy Self-Advocates Working with Health Professionals – Building and maintaining a healthy lifestyle can be challenging, but you have the power to shape your own health! In this multi-part presentation, self-advocates from MASS will discuss how to self-advocate in healthcare settings, from setting good healthcare goals to interacting at the doctor's office.
6). Ready, Set, Go…You Got the Job, Now What? Starting a new job can be scary, whether you are just entering the workforce or are in transition. In this workshop, self-advocates from MASS will share tips and strategies for what you can do to get the most out of your new job.
7).  Self-Advocacy: Changing the World. What is "self-advocacy?" And what does it take to be a self-advocate? In this presentation, two MASS board members will share their stories of how self-advocacy has made a difference in their lives and helped them to make a difference in their community.
8). Self-Advocacy Fundraising. Have you ever wanted to learn how to raise money for a cause you care about? In this presentation, self-advocates will share experiences and strategies for how to create successful and impactful fundraising campaigns and events.
9). Strong Together: National Peer Support Network. The Peer Support Network (PSN) was created by and for people with disabilities who are also survivors of sexual violence. In this workshop, the presenters will provide short stories of their experiences, explain what the PSN is, why peer support is important, what survivors need and what the PSN can do. NOTE: This workshop contains strong content – participant discretion is advised.