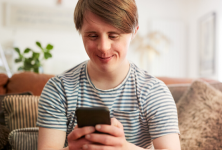 Online, Thursdays, through January 2021, with Kehillah at the JCC in Springfield, MA. For teens and young adults with special needs, ages 14 – 26. Participants will work on social pragmatics and friendship skills
* Get together, whether in-person or on-line, to play games and socialize.
* * Part of the Kehillah, the JCC Special Needs Program, which provides recreational, social, and enrichment programs for children, teens, and adults with special needs, including cognitive and developmental delays, Down Syndrome, and autism spectrum disorders.
* Kehillah is open to people of all faiths, ethnicities and beliefs.
Fees apply, registration is required to www.springfieldjcc.org/kehillah/
or contact (413) 739-4715 or email tedwards@springfieldjcc.org Tina Edwards , Director of Kehillah.