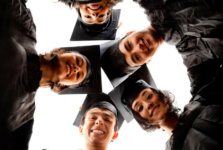 Webinar, December 3rd, 2020, with with Schools for Children in Massachusetts. Free. Creating a Successful Path Forward for Students with Learning and Other Challenges and Their Families.
* College Bound with Challenges is the SECOND a three-part series on transition for high school students with learning differences and other social-emotional challenges.
* For families looking for vetted transition resources, district professionals responsible for supporting students through transition, educators /counselors at non-SPED schools looking to better support students through transition, providers looking to expand their networks.
* College Bound with Challenges – Today, all U.S. institutions are required to provide a minimum level of support for students with disabilities. Many do much more by providing access to high-quality learning support centers, advising and student health services. A few go even further and offer programs specifically designed to meet the needs of students with moderate learning and social-emotional challenges.
* Hear from panelists in a wide ranging discussion about the college experience when you have learning challenges.
* Discuss how students can advocate for themselves.
* The panel will help you learn how to assess your options and choose a college that can best meet your needs.
* Panelists:
Sheilah Gauch, Principal, Dearborn Academy
Joan Casey, President, Educational Advocates College Consulting
Carol Kinlan, Senior Educational Consultant, Matlack Educational Consulting
Registration is required to www.eventbrite.com/e/conversations-on-transition-take-the-next-step-to-college-tickets-124500818299   or contact Denise Moorehead at info@schoolsforchildreninc.org.