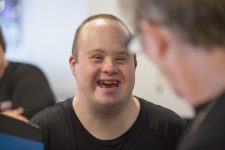 THRIVE in Marlborough, December 6th, 2018. Denise Haley, the Assistant Director of the Middlesex West Area Office of the Department of Developmental Services (DDS) will host a Special-Needs Transitional Services Information Session for those with a child between the ages of 18 to 22 who is eligible, or may be eligible for DDS adult services. Hear more about:
Adult Eligibility & the DDS Application for Eligibility
Role of Adult Transition Coordinator
Chapter 688 referral process
Day and Employment Options
Self-Directing Support Services
Services for individuals on the Autism Spectrum
Family Support
Service Delivery Models
DDS Support Services
Ask questions of DDS staff regarding a the services.
Please RSVP to: www.facebook.com/groups/pspgroup247/permalink/2448168505200852/   or cdfortwengler@icanthrive.com or 508-485-4227 ext 1009.