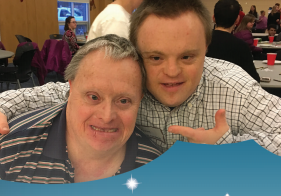 Bentley University in Waltham, April 28th, 2018. Growing up with Down Syndrome: Living a Longer, Healthier and Meaningful Life, is hosted by the Massachusetts Down Syndrome Congress in collaboration with the Massachusetts General Hospital Down Syndrome Program, and is specifically geared for adults with Down syndrome ages 22 and up, their family members and supporters.
Keynote Address by:Dennis E. McGuire, Ph.D., Consultant, Global Down Syndrome Foundation; Former
Director of Psychosocial Services for the Adult Down Syndrome Center of Lutheran General Hospital outside of
Chicago; Co-author of Mental Wellness in Adults with Down Syndrome and The Guide to Good Health for Teens & Adults with Down Syndrome.
SEE MORE DETAILS ON OUR DOWN SYNDROME/II & ID Page.