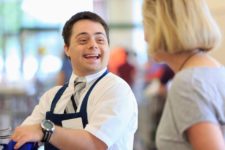 Salem, September 25th, 2017.  A parent/guardian training on Autism in the Workplace, run by an Autistic Adult and a Parent Advocate. Learn about the importance of work, how to get transition age youth and autistic adults on the path to employment. Ask questions, network, meet other parents/guardians, and learn about additional resources.
Young adults are welcome to attend with their parents/guardians. A small, unsupervised room with WIFI will be available for people to hang out.
RSVPs required to Richie Jache at rjache@triangle-inc.org or 978-232-3933 to reserve your spot and/or to
inquire about additional accommodations or visit www.facebook.com/TriangleOrg/photos/gm.346587729129003/10155655858594286/?type=3&theater
* Accessible to all.  * A fragrance free event.  * Please notify the host if you require accommodations.