When:
2018-12-08T00:00:00-05:00
2018-12-09T00:00:00-05:00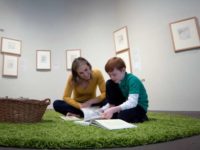 Boston, December 8th, 2018. The "Winnie-the-Pooh: Exploring a Classic" low-sensory morning program is geared for young people who would benefit from a quieter experience with fewer visitors and more space to explore. Appropriate for those who are on the Autism spectrum, may feel anxious in crowded spaces, or have complex medical needs.
* There are few general public visitors in the gallery during low-sensory mornings.
* Sensory Morning Visitors can move through the gallery at their own pace and engage with areas of the exhibition where they feel most comfortable.
* Ambient sound is turned off and you may stay in the gallery as long as you wish
* Exhibition opens to the general public at 11 a.m., other areas of the Museum are also open during this time.
Fees apply. For more information visit www.mfa.org/programs/winnie-the-pooh-low-sensory-morning-0 or contact access@mfa.org, 617-369-4027.