When:
2020-10-17T00:00:00-04:00
2020-10-18T00:00:00-04:00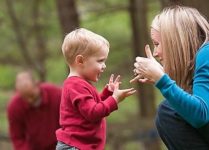 Webinar, October 17, 2020, 9 a.m., with the Massachusetts Down Syndrome Congress.  The Boston Children's Hospital Down Syndrome Program and the Massachusetts Down Syndrome Congress are co-hosting a baby sign language workshop for newer parents.
* This workshop will provide an introduction to using American Sign Language vocabulary in order to facilitate communication with your little one.
* Learn when and how to start, what signs to start with, and strategies for incorporating sign language into your daily routine.
* Learn how to add signs to songs you and your baby already know and love to sing.
* Geared for parents of infants and toddlers.
About the presenters;
Lane Rebelo, LCSW, is the author of the Baby Sign Language Made Easy: 101 Signs to Start Communicating with Your Child Now and The Complete Guide to Baby Sign Language: 200+ Signs for You and Baby to Learn Together. As a licensed social worker, Lane worked for many years with families in the Boston area.
To register or for more information visit hwww.facebook.com/events/744987282739980/  or contact scullen@mdsc.org.