When:
2020-10-22T00:00:00-04:00
2020-10-23T00:00:00-04:00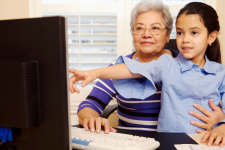 Webinar, October 22, 2020, 9 a.m., with the Massachusetts Down Syndrome Congress. Part of the MDSC's Virtual Educators Forum Series, which aim to provide information and resources for school-aged youth to ensure that students with Down syndrome and other intellectual or developmental disabilities receive the best education possible.
*  For Family Members, General and Special Educators Pre-K to 12, and ALL Related Service Providers and Education Professionals.
TOPIC: Building Better Remote Learning Experiences with UDL. "One-size-fits-all" solutions do not work in the classroom or remotely. If systems have any chance of supporting students during the current pandemic – particularly students with disabilities – they have to use the principles of Universal Design.
* To ensure we have viable solutions no matter what kind of resources our students have access to, we must first recognize the many barriers students and their families face while at home. Then, we must design learning experiences that proactively plan for this variability.
* Through this session, explore how to universally design lessons that are aligned to standards in remote settings, consider how to best meet IEPs, and create specially designed instruction that gives all students the greatest chance possible to succeed in remote settings.
About the presenter: Katie Novak, EdD, President, Novak Educational Consulting; Zach Smith, Education Consultant, Graduate Student
* PDP certificates are offered to registrants.
* If you register for a webinar but are unable to join live, you will have access to the recording.
To register or for more information visit www.facebook.com/events/309550557043189/  or contact education@mdsc.org.