When:
2018-03-10T00:00:00-05:00
2018-03-11T00:00:00-05:00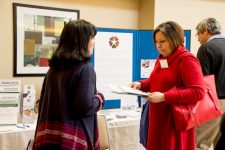 Boston, March 10th, 2018. The Federation for Children with Special Needs annual statewide conference "Visions of Community, a Conference for Parents of Children with Special Needs and the Professionals Who Serve Them".  Attend your choice of workshops about early childhood, special education, transition to adult life, special healthcare needs, managing challenging behaviors, mental health services and supports, inclusion, autism, fostering friendships, assistive technology, stress management for parents, parent leadership, and more.

Meet Federation staff and learn about all the projects at the Federation. 

Visit exhibit hall with parent organizations, vendors, and lots of FREE resources. 

For more information visit or contact http://fcsn.org/ 
Scholarships are available – please email voc@fcsn.org or call (617) 236-7210  
Workshops Descriptions:
■ Integrated Care Program. Richard Antonelli, MD: Boston Children's Hospital -A panel from Boston Children's Hospital discusses collaborative care planning, including tools and techniques to improve care integration for families of children with special health care needs.
■  Key Special Education Law Updates – Dan Heffernan: Attorney. Participants will learn about significant decisions, regulations, and legislation from the past year while addressing important trends and special education law issues on the horizon.
■  Watchful Eyes on the Young Learner. Carol Kinlan Director of Admissions and Enrollment, Perkins School for the Blind. A discussion of warning signs in young children that may point to a later learning disability; learn how to request and interpret testing and get the best support for your child.
■  Inclusion: Easy to Do It Poorly! Joe Petner, Phd, Support Facilitator, MA Department of Elementary and Secondary Education division of District and School Assistance Center. Learn what it takes to support inclusive schools, and, ultimately inclusive communities.
■  Opportunities for Students and Youth to Achieve Brighter Futures. Jennifer Stewart: Statewide Transition Director, Massachusetts Rehabilitation Commission. An overview of vocational rehabilitation services, pre-employment transition services, and community supports accessible to students and youth through MRC. The workshop will also include an outline of the referral process.
■  Problem Solving Our Way to Positive Behaviors. Nikki Baumer, MD: Boston Children's Hospital, Josh Baumer, MED: Boston Children's Hospital. The workshop offers an interdisciplinary means of understanding and managing challenging behaviors, with a focus on supporting positive behaviors in school.
■ We've Got the Diagnosis and Recommendations: Now What? Neal Goodman, MS, and Jason Fogler, PhD: Boston Children's Hospital. Three parents of children with neurodevelopmental disorders will share their experience and insights for finding effective behavioral therapies.
■  Accessing Autism Insurance Support across the Lifespan. Terri Farrell: Autism Insurance Resource Center, University of Massachusetts Medical School, Shriver Center. This workshop will help parents understand how to access ABA and autism services through their insurance.
■  Beyond the Classroom Walls: Maximizing the Family's Role as the First Teacher. Su Theriault, University of Massachusetts, Boston. There are many ways families and professionals can maximize children's classroom learning during everyday activities at home and in the community. Participants will explore routines and materials, conversations, and learn how to use social stories.
■  A Parent's Guide to Effective Reading Goals for Their Child's IEP. Nancy Duggan, Executive Director, Decoding Dyslexia MA, Danielle Pimenta: Teacher, Framingham Public Schools. What can parents expect from the school when their child is struggling with reading? This workshop will help parents understand how their child's needs can be identified, how to write measurable goals and how instruction can meet the requirements of IDEA.
■  Finding & Establishing an Independent Living Facility for Your Child. John Reichenbach, FCSN Board Member, Chuck Silsby: President, Specialized Housing, Marc Slotnick: President, New England Communities. An overview of funding sources and alternative housing models, potential approaches, and issues you are likely to encounter in finding an independent living facility for your child. The presenter will describe the hurdles his family overcame to establish an independent living facility for their son and nine other young adults with intellectual disabilities.
■ Asking Effective Questions; Making the Most out of the IEP Process. Anne Howard, PhD: Professor, Education Department, Fitchburg State University.  Creating an IEP can be challenging for everyone involved: parents, education professionals, and students. One of the best ways to ensure that the final product is effective is for team members to ask good questions. This workshop will provide an overview of IEP components and identify key questions to ask during the process.
■ Supporting Siblings of Children with Disabilities and Special Health Care Needs Emily Rubin. University of Massachusetts Medical School, Shriver Center.This workshop addresses the sibling experience, offering strategies and resources to support siblings of children with disabilities or special health care needs.
■ Successful Models to Access College and Jobs for ALL.  Transition Services Johanne Pino,  Massachusetts Advocates for Children. A panel discussion with a state official, an educator, and a self-advocate will review avenues to college and workplace success for students with intellectual disabilities
■  Transition Considerations for Your Child's Future,  Leo Rotman: CFP®, Meredith Greene, Attorney. How do I make sure my child can have the life I want for them? This workshop offers a holistic perspective on benefit programs, ways to bridge funding gaps, and legal considerations.
■ Transition Assessment: When, What & How? Kelley Challen, EdM, CAS. A discussion-based workshop on transition assessment, including what to ask for, when to ask, and how to turn the results into a meaningful plan and a transition-infused IEP.
■  Thinking Outside the District – The Benefits of Regional Collaboration. Leslie M. Leslie: MassPAC / APPLE Project Director, Federation for Children with Special Needs. A panel of SEPAC officers, a special education administrator and a community partner will highlight effective models for regional collaboration and sharing.
■ Fostering Engagement in Students with Learning Disabilities. Melissa Orkin, Program Director, Center for Reading and Language Research, Tufts University. Children with learning disabilities often struggle to stay engaged in school and develop positive associations with academic tasks. New research from Tufts University highlights practical, home-based strategies to foster a healthy mindset about learning, academic challenges, and intrinsic motivation.
■  IEP & Schoolwide Strategies to Prevent Bullying. Catherine Mayes: Autism Project Advocate, Massachusetts Advocates for Children.By following a case study, see how one family was helped by a new law and how their child was able to receive support through the IEP process.
■ Early Identification of Struggling Readers. Alissa Talamo, Ph.D. This workshop will provide information to help determine if a child is demonstrating difficulty acquiring reading skills relative to typically developing peers.
■ Supporting Students with Special Health Needs in School & Community. Linda Surprenant, Family TIES of MA, Western MA Regional Coordinator, Federation for Children with Special Needs.
This presentation for parents of children with special health care needs will focus primarily on practical strategies, IEP considerations, IHCP, and the role of team members in supporting your child to access the full life of the school.
■ Planning for a Loved One with Special Needs. Karen Mariscal,  Attorney. Learn how government benefits, special needs trusts, and ABLE accounts can help you plan financially for your loved one, so that they have the resources available to live the best life possible.
■  College Navigator: Accommodations in Higher Education. MaryEllen MacRae,Director of Transition & Employment, Easter Seals.  While students with disabilities are increasingly being accepted into college, many of them are not able to graduate. Easter Seals MA created College Navigator to address the bridge to higher education, with an ultimate goal of degree completion. This workshop will address the services provided and how to prepare for higher education without IEP accommodations.
■  Sharing Your Story: Disability Rights as Human Rights. Melanie Perkins McLaughlin, M.Ed: Policy Officer, The Arc of MA. This workshop will offer participants an understanding of critical moments in the disability rights movement in the US, the history of the Federation for Children with Special Needs, and power of storytelling to create change.
■ Special Ed Law: Children with ASD. Leslie Hughes, Statewide Transition Director, Massachusetts Advocates for Children. This workshop will highlight changes to state and federal law that impact children with ASD, helping you understand the rights and procedures that ensure children with ASD receive educational opportunities which reflect their competency and potential.