When:
January 11, 2021 – March 29, 2021
all-day
2021-01-11T00:00:00-05:00
2021-03-30T00:00:00-04:00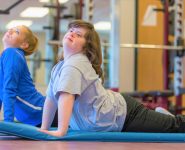 Virtual All Abilities Dance & Fitness Classes, Winter 2021, M- F, with a Family Support Center serving all areas of Massachusetts. For special-needs youth and families. Please inquire with the host regarding appropriate ages for this class.
* Looking for something to keep you busy and get you moving? Bridgewell's Family Support Center is sponsoring adaptive Virtual Dance Parties and Virtual Physical Fitness Groups.
* In order to attend, you will need to download Zoom meeting software on your smart phone, tablet or laptop. .
To register or for more information visit https://bridgewell.org/disability-services/autism-services/family-support-center/?tribe_events_cat=family-support-center-event&tribe-bar-date=2020-10&tribe_event_category=family-support-center-event%2F   and scroll to the calendar
OR CONTACT 781.593.1088 .