When:
September 21, 2018
all-day
2018-09-21T00:00:00-04:00
2018-09-22T00:00:00-04:00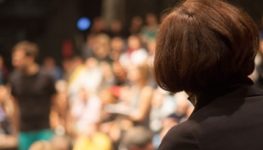 Natick, Setpember 21st, 2018. Integrating Treatment: Exploring the Links Between Trauma, Substance Use, and Other Co-Occurring Conditions." Hear about the ways in which trauma, addictions, and co-occurring disorders intersect. Speakers and panelists will address how trauma often increases engagement in health-risk behaviors; how these behaviors and the ways in which society traditionally responds to them, may in turn cause increased toxic stress; and what can be done to address these complicated interactions. Speakers and Workshops:
Keynote Speaker: "Finding a Path to Recovery from Trauma and Addiction". This presentation will provide an overview of "Finding Your Best Self," a new recovery model for trauma and/or addiction. Lisa M. Najavits, PhD, is a professor of psychiatry at Boston University School of Medicine, adjunct professor at the University of Massachusetts Medical School, and a clinical research psychologist in the Veterans Affairs Healthcare System.
 "How a Trauma-Informed Criminal Justice System is Fighting Addiction". Training police officers to understand trauma positively impacts their ability to stay resilient, provides perspective for grieving families and friends, and removes the stigma for those struggling with addiction. Speaker Sonny Provetto, LICSW, is a licensed therapist, an EMDR clinician, and a trauma consultant for police departments and emergency responders in northern Vermont. His experience as a police officer and as an emergency mental health clinician at 911 have guided his clinical practice with first responders for more than 17 years. He currently consults on issues of stress and trauma with 10 Vermont police departments, including the Vermont State Police, as well as the Vermont Department of Children and Families.
"This is Your Brain on Adversity". Speaker Joanna (Hooper) Bridge will use case examples and historical representations of substance use,  explore how and why substance use and toxic stress intersect on both neurophysiological and sociocultural levels, specifically highlighting how the likelihood of substance use and addiction make sense / are understandable in the context of toxic stress. Joanna is the Clinical Services Director at Riverside Trauma Center, and is responsible for responding to community disasters and providing trainings for the community on trauma, resilience, trauma-informed care, and suicide prevention and postvention.
 Panel Presentation: There will be a panel presentation of people impacted by trauma, substance use disorders, and suicide who are working to change the ways in which those conditions interact.
Marian T. Ryan, Middlesex County District Attorney, will talk about Project CARE which has a mission to stop intergenerational trauma caused by opioid overdoses.
Fees apply, registration is required to http://riversidetraumacenter.org/trainings-events/our-annual-conference-and-other-events/   or contact Jenny Huynh at 781-433-0672, ext. 5738 or jhuynh@riversidecc.org