When:
November 24, 2019
all-day
2019-11-24T00:00:00-05:00
2019-11-25T00:00:00-05:00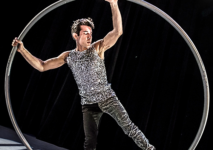 Providence, November 24th, 2019. Free. This sensory-friendly acrobat performance is for the entire family, and features a talented troupe of acrobats, aerialists, and circus specialty artists. The goal is to offer a guest experience that is welcoming, judgement free, and inclusive of guests on the autism spectrum, with other developmental or cognitive disabilities, or sensory sensitivities. These performances were created to foster a welcoming setting for these individuals and their families, and other guests who might benefit from a more relaxed theatrical environment.
Sensory-Friendly modifications include:
• House lights are kept at a low level throughout the performance.
• Standing and movement spaces are available in the theatre for the production's duration.
• Designated quiet area with skilled staff from The Autism Project will be available in the Lobby.
** PLEASE NOTE: Patrons requiring seating modifications or any other accessibility services should call the Box Office in advance at (401) 421-ARTS (2787).
For tickets and more information visit  https://docs.google.com/forms/d/e/1FAIpQLScjMWriRg1_-IOj-wqBaRJ3X8z5BdLOcAh0c4ME8BfZOcIsiQ/viewform  or contact the Providence Performing Arts Center 401-421-2787