When:
2020-08-20T00:00:00-04:00
2020-08-21T00:00:00-04:00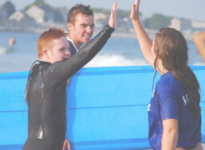 Hampton, NH, August 20th, 2020. Free. An event for people with special needs and abilities to learn how to surf, and is open for any and all ages.  Join in on a night of surfing, beach games, and more.
Surfing with Smiles' aim it to help build confidence and sense of reward, enjoying the beach, playing in the water, or staying dry on land and playing beach games.
* Their mission is to enhance the lives of surfers and volunteers by creating a positive and fun environment that builds confidence, gives a sense of reward to all participants, and friendships.
Registration for the August 20th event is on Thursday, July 30th, starting at 11 am.
* Registration is required for ALL surfers.
* It is also required that all surfers are accompanied in the water by a parent or guardian.
To register or for more information visit www.facebook.com/events/1488269301340962/  contact  surfingwithsmiles@gmail.com or call Taylor at 603-965-5119 or Lindsey at 978-828-9738.