When:
2019-10-10T00:00:00-04:00
2019-10-11T00:00:00-04:00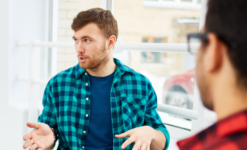 Peabody, MA, Fall/Winter, 2019. The Autism Support Center of the Northeast Arc hosts a North Shore Fathers' Group for fathers of children with an Autism Spectrum Disorder the second Thursday of each month. These groups are facilitated by members who are parents of a child with an ASD.
* The Northeast Arc is a non-profit organization that offers a variety of services that support individuals with disabilities and their families.
For more information or to RSVP visit https://ne-arc.org/services/autism-services/autism-support-center/support-groups/ or contact asc@ne-arc.org or calling 978-777-9135.