When:
August 3, 2019 – August 4, 2019
all-day
2019-08-03T00:00:00-04:00
2019-08-05T00:00:00-04:00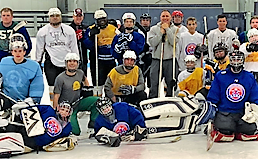 Marlborough, MA, August 3rd & 4th, 2019. The East Coast Jumbos is an organization whose goal is to provide a positive athletic and social experience for athletes with Autism and other developmental disabilities who wish to participate in the great sport of ice hockey.
* The East Coast Jumbos is a coed hockey affiliated with American Special Hockey Association and strives to provide a positive, fun and social ice hockey experience for all.
*This camp requires that all participants:
Have their own (well fitting) protective hockey equipment.
Be able to communicate and function in groups with minimal physical redirection.
Be able to stand to skate.
Be able to attend to personal needs independently.
Fees apply, Registration required to www.eastcoastjumbos.org or contact Coach Ray LeBlanc
CoachRay@eastcoastjumbos.org or Colleen Markow CMarkow@eastcoastjumbos.org