When:
2019-01-03T00:00:00-05:00
2019-01-04T00:00:00-05:00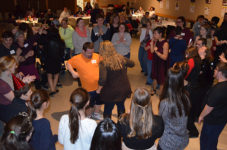 Springfield JCC, January 3rd, 2019. For ages 14+ with all abilities, a Rocking New Years Eve and also for any family and friends wishing to come along and dance the night away. Includes a DJ, refreshments and more. Hosted by  Kehillah, the JCC Special Needs Program, which is open to people of all faiths, ethnicities and beliefs. Their goal is to provide quality recreational, social, and enrichment programs for children, teens, and adults with special needs in a welcoming environment where participates can develop skills and independence, build self esteem and cultivate meaningful relationships. 
To register contact 413-739-4715 or  byoung@springfieldjcc.org
Kehillah programs is designed for preschoolers, children, teens and young adults with cognitive and developmental delays, Down Syndrome, and autism spectrum disorders. All classes are designed to enhance social, emotional and physical skills of our participants.