When:
December 5, 2020 – March 27, 2021
all-day
2020-12-05T00:00:00-05:00
2021-03-28T00:00:00-04:00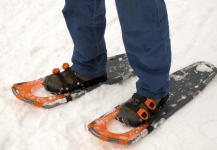 Brookline, MA, December 5th, 2020 – March 27th, 2021, With the Brookline Recreation Department's Therapy Programs. Strap on your snowshoes, its time for a fun time in the snow.
* Dates listed are for the entire winter.
* The Rec Department will contact people when there is snow on the ground and snowshoeing will be offered.
* Ages – please inquire with the host.
To register or for more information visit www.brooklinerec.com/190/Recreation-Therapy or contact Micah Barshay, CTRS, Therapeutic Recreation Specialist, Brookline Recreation (617) 730-2069 or  mbarshay@brooklinema.gov.