When:
2018-12-08T00:00:00-05:00
2018-12-09T00:00:00-05:00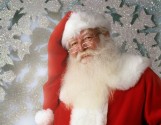 Randolph, December 8th, 2018. For families of young children with Autism living in the Randolph, and surrounding local communities. Santa will be paying a visit to a local school's open house at their Randolph campus.  Kids with autism will also be able to do arts and crafts with kids, tour the center, and meet our staff.
RSVP to https://bit.ly/2Pg0AaC or contact Antonina Saunders at 781.437.1215 or asaunders@mayinstitute.org.