When:
2017-04-04T00:00:00-04:00
2017-04-05T00:00:00-04:00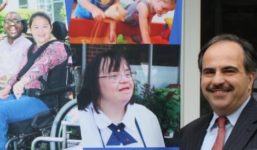 Minute Man Arc for Human Services, Concord, April 4th, 2017. Leo Sarkissian, Executive Director, The Arc of Massachusetts, will discuss hoq services such as Turning 22, Family Support, Autism, Employment & Day Services, Adult Family Care, Housing, PCA, etc., are affected by both federal and state policy deliberations on Capitol Hill and Beacon Hill.
Issues that will be addressed:
Congressional proposals and their direct impact on services

Status of this year's budget deliberations on DDS & MassHealth services

What you can do to impact state and federal action




(Time will be appropriated for questions.) 
R.S.V.P. by Friday, March 31st To Michele Klein: mklein@minutemanarc.org or 978-287-7910 or visit http://minutemanarc.org/
About the speaker: Leo Sarkissian has worked in the disabilities field for thirty five years and presently leads The Arc of Massachusetts, an advocacy organization which works on behalf of people with disabilities and families. The mission of The Arc is to enhance the lives of individuals with intellectual and developmental disabilities and their families through advocacy of community based services and supports.