When:
2020-03-05T00:00:00-05:00
2020-03-06T00:00:00-05:00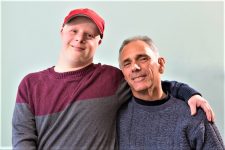 Northeast Arc, Danvers, MA, March 5th, 2020. Leo Sarkissian, Executive Director of The Arc of Massachusetts, will have a Spring 2020 presentation about pressing issues facing people with intellectual and developmental disabilities and the family members and human service agencies who assist them.
Topics will include: 
The workforce shortage in Direct Support Professionals, and what the Arc is doing to help the situation.
The 2020 Census.
The FY 21 state budget and how you can help The Arc advocate.
The importance of social inclusion.
Learn what you can do to be an effective advocate so you can have an impact on the lives of people with disabilities statewide.
* To register visit https://thearcofmass.org/march2020  or contact Katerina Daley, The Arc of Massachusetts
781-8916270 x104,  daley@arcmass.org