When:
2019-12-08T00:00:00-05:00
2019-12-09T00:00:00-05:00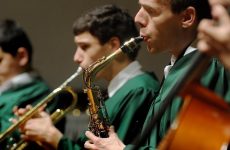 Watertown, December 8th, 2019. A free and wheelchair accessible concert open to the public. The Perkins student musicians will offer a festive evening of music sung by the Perkins Student Chorus and Chamber Singers, featuring traditional and popular carols, barbershop music and classical pieces as well as arrangements sung in Spanish, Hebrew and Latin. Soloists will be accompanied by the Instrumental Ensemble and Handbell Ensemble. To RSVP please visit www.perkins.org/get-involved/events/holiday-concert-sunday or you have questions or need an accommodation, please call 617-924-3434.