When:
2017-07-15T00:00:00-04:00
2017-07-16T00:00:00-04:00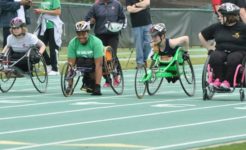 Fitchburg State University, July 15th, 2017. Participants must be a minimum of age 8, and will be classified by ages once the number of entrants is determined.
There will be Male and Female Divisions
Eligibility – An athlete must meet at least one of the following criteria:
A full time resident of Massachusetts, Maine, New Hampshire, Rhode Island or Vermont.
A full time student at a recognized academic institution in MA.
A registered member of a Track and Field Club in Massachusetts. Athletes entering under this eligibility rule may not also be a member of a non Massachusetts club.
Fees apply, registration and more track meet requirements can be found at www.baystategames.org/paralympic-track  or contact 781-932-6555