When:
2020-12-02T00:00:00-05:00
2020-12-03T00:00:00-05:00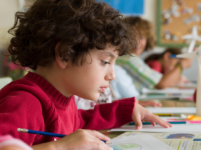 Webinar December 2, 2020, 6:00 PM, with Learning Prep School in
West Newton, MA. This presentation will guide families and professionals through the process of neuropsychological and psychological testing from when adults are first concerned about a child, through the testing process itself, and review the expected outcomes from an assessment.
* The presentation will focus on practical guidance as to how to engage in an assessment and to support children and families using evidence-based methods after testing is completed.
A short Q&A will conclude the event.
About the speaker: Dr. David Stein is a pediatric psychologist specializing in neuropsychological testing, particularly for learning disabilities, attention disorders, autism spectrum disorders, and intellectual disability.  Dr. Stein also serves as an adjunct professor teaching pediatric assessment at William James College. He is the consulting psychologist for Lawrence Academy of Groton, MA and is helping to build a program to support students with learning disorders.
RSVPs to the Learning Prep School www.surveymonkey.com/r/W2PSSRZ  or contact Korina Martin, Director of Admissions at kmartin@learningprep.org.