When:
June 25, 2020 – June 26, 2020
all-day
2020-06-25T00:00:00-04:00
2020-06-27T00:00:00-04:00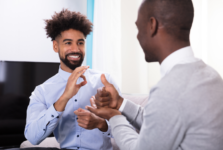 Boston, MA, June 25th, 2020. UPDATE: Postponed due to COVID-19. Please check the host's link below for more information.
The conference will be offering a variety of workshops for different special interest groups. This year's conference theme is: Breaking Walls: Exploration and Self-Empowerment. The conference's main focus is to bring together underrepresented people of color and provide series of platforms to discuss various issues to explore and empower together and individually.
* There will be keynote speakers, plenary and workshop presenters, and entertainment.
Fees apply, registration is required to www.facebook.com/NDPC2020/         contact ndpcconfer@gmail.com
Workshops Presenters:
Dominic Harrison – Santa Fe, New Mexico: "Cultural Implications in the K-12 Education Settings" and"Advocating for Deaf Students of Color"
Victorica Monroe – Washington, D.C.:  "Our Life Book"
Larry Gray  – Capitol Heights, Maryland: "Increasing Our Representation: Current State of Deaf-related Fields"
Yeh Kim – Washington, D.C.: "Yellow: Explore the Asian Deaf World"
Roberto Cabrera – Los Angeles, California: "DeafBlind way: Communication and Culture"
​Leila Hanaumi – Austin, Texas: "Manifest the Life of Your Dreams" ​
Sandy McLennon  – Santa Rosa, California: "Expanding Diversity in the field of Interpreting"
Suzette Garay – Milwaukee, Wisconsin: "How to Define Your Authentic Self When You Have Lost Yourself in Pleasing Others"
Thuan Nguyen – Washington, D.C.: "Yellow: Explore the Asian Deaf World"
​Selah Davison – Denver, Colorado: "Deaf People of Color Identity and Mental Health"