When:
November 22, 2020 – December 31, 2020
all-day
2020-11-22T00:00:00-05:00
2021-01-01T00:00:00-05:00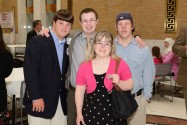 Online until the end of 2020. The Massachusetts' Down Syndrome Congress has pivoted to an online event that will be accessible for most of 2020.
The Trailblazers – Paving the Way to a Bright Future Through Innovative Research conference will feature a special research-based focus, and delve deep into the promising developments in Down syndrome research and the exciting potential it has for the future.
* This virtual event is for people with Down syndrome, their family members, health care professionals and educators from across New England.
Fees apply, registration is required to the Massachusetts Down Syndrome Congress www.classy.org/event/36th-annual-virtual-conference/e283008  or contact 781-221-0024.
CONFERENCE WILL FEATURE:
Opening celebration honoring the trailblazers
Sponsor and exhibitor galleries
Recorded presentations
Live, interactive workshops
Topics will include:
Accelerating Research in Down syndrome
Alzheimer's Disease in Down syndrome: What We Know, What Gives Us Hope for the Future
Connecting Families and Those with Down syndrome to Research that INCLUDEs Them
Differentiated Instruction
Down Syndrome Clinic to You (DSC2U): A New Virtual Clinic for All Families
Effective Supportive Strategies Toward Accessing Inclusive Community Offerings
Keeping You Healthy: Medical Updates for Adults
M

edical and Neurodevelopmental Conditions in Children and Adolescents with Down syndrome

New Frontiers in Voice Technology: How Machines are Learning to (re)Create Our Voices
Physical Fitness and Sports Nutrition for People with Down syndrome
Planning for Two Generations
Project Euphonia: Helping People Be Better Understood

Supporting Positive Behavior in Children and Teens with Down Syndrome: The Respond but Don't React Method

Supporting Your Student During COVID-19

Tech Tips 101 – Getting Started with Using Google Extensions and Tools to Support Access to Curriculum

The Possible Futures of Education

Using This Unusual Season to Build Skills of Independence

Working Memory and Down syndrome
Self-Advocate Presentations will include:
A Chat with SAAC Members on Health and Wellness, and Independent Living
A Chat with Matthew Cullen on Public Speaking
A Chat with SAAC Members on Transportation
Art with Ashley
Comics, Superheroes and More with Omar
Dance with Kunal
Inspiration with Peter
Painting with Michael
Photography with Chris
Piano with Graham
Poetry with Kate