When:
2020-03-28T00:00:00-04:00
2020-03-29T00:00:00-04:00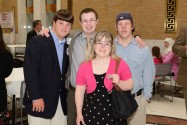 Worcester, March 28th, 2020. UPDATE – From the MDSC: After careful consideration, MDSC has made the difficult decision to cancel our 36th Annual 'Trailblazers' Conference on March 28 at the DCU Center due to risks associated with the Coronavirus.
Please visit the MDSC registration link below for more information on the conference cancellation.
The Trailblazers – Paving the Way to a Bright Future Through Innovative Research conference will feature a special research-based focus, and delve deep into the promising developments in Down syndrome research and the exciting potential it has for the future.
* Zack Gottsagen, star of the movie The Peanut Butter Falcon, will be the keynote speaker for the Awards Luncheon.
* New technologies, new treatments, and new research are on the horizon for people with Down syndrome and their families. It can be daunting for families to access and understand how this may impact their lives and that of their loved ones with Down syndrome.
* This conference will delve deep into the promising developments in Down syndrome research and the exciting potential it has for the future with workshops on:
innovative clinical trials
studies underway nationwide that have promise to make a difference in people's lives
the latest research on nutrition and physical fitness, education, clinical care, technology, behavior, and Alzheimer's disease, and more.
Families will learn how to participate in Down syndrome-specific research studies on many of these topics.
find the latest information from national and local experts but to celebrate the lives of their loved ones.
2020 Special features of the conference include:
General Session Workshops – Family members and professionals will learn from expert speakers about the full range of Down syndrome research that promises to help individuals with Down syndrome lead fuller, healthier, more independent lives.
Self-Advocate Workshops– Young adults with Down syndrome will have an opportunity to network, share experiences, and strengthen their self-advocacy skills.
Brothers and Sisters Workshops– Siblings of people with Down syndrome will hear how other brothers and sisters deal with the joys and challenges inherent in being a sibling.
Awards Luncheon will honor individuals who have made a significant impact on the Down syndrome community. The MDSC presents a variety of awards during the luncheon: Media Award, Educator of the Year Award, Leadership Awards, Allen Crocker Award of Excellence, and Employer of the Year Award. We will begin accepting nominations for our awards in late 2019.
Annual Meeting where members get an overview of our work over the last year and the latest updates of what we have in store.
Diversity Breakfast meet and greet hosted in the morning for culturally diverse families.
For registration or for more information visit the Massachusetts Down Syndrome Congress https://www.mdsc.org/events/AnnualConference.cfm or contact 781-221-0024.