When:
2019-03-23T00:00:00-04:00
2019-03-24T00:00:00-04:00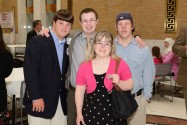 Worcester, March 23rd, 2019. The Shaping the Future Conference will feature a special research-based focus, and delve deep into the promising developments in Down syndrome research and the exciting potential it has for the future.
2019 Conference workshops will explore:
*innovative clinical trials
*studies underway nationwide that have promise to make a *difference in people's lives
*the latest research on
– sleep apnea
-nutrition and obesity
-behavior
-inclusive education
-clinical care
-Alzheimer's disease
-information on the latest groundbreaking research into *"silencing the extra chromosome."
-how to participate in Down syndrome-specific research studies on many of these topics, including through the National Institute for Health's DS Connect platform.
** There will be a general workshop track for parents, other family members, educators and professionals PLUS specialized programming for:
*Self-Advocates – for youth and adults with Down syndrome, ages 13 and up
* Brothers & Sisters – for siblings ages 8-16
For registration or for more information visit www.facebook.com/events/348166462664848    or contact 781-221-0024.