When:
October 24, 2019 – October 25, 2019
all-day
2019-10-24T00:00:00-04:00
2019-10-26T00:00:00-04:00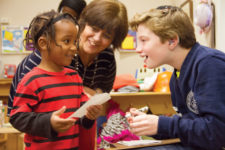 Windsor, CT, October 24th & 25th, 2019. The Invest in Their Future  Hearing Loss Conference Learn, for professionals, teachers, parents and researchers committed to helping children who are deaf or hard of hearing reach their full potential. Network and discover new tools and resources to foster success.
Keynote speakers include:
 "Silent NO MORE",  with Michelle Christie, Founder and Executive Director, No Limits for children with hearing loss and families. Michelle will discuss her theater production of Silent NO MORE, comprised of true and inspiring stories. There will be a "teaser" of Silent NO MORE with the cast, including American Comedy Award nominee Kathy Buckley and author Rebecca Alexander.

"Self-Respect: The Foundation of Leadership", with Drew Dudley. Author of This Is Day One: A Practical Guide to Leadership that Matters, Dudley will be discuss utilizing self-respect to recognize and create leadership and resiliency for your lives and careers.

"Optimizing Outcomes for Students who are Deaf or Hard of Hearing", with Barbara Hecht, PhD, Director, Clarke Schools for Hearing and Speech, Boston, MA, and Sherri Vernelson, Section Chief, NC Department of Public Instruction, Exceptional Children Division, Raleigh, NC Adjust Professor, Radford University.

"The Listening Project", with Jane Madell, PhD. Jane and filmmaker Irene Taylor created The Listening Project,  a documentary comprised of interviews with deaf adults in their 20s and 30s. Most of whom were identified to have hearing loss as babies by Madell. Madell will show The Listening Project during this session and answer questions following it.
Registration is required to www.clarkeschools.org/services/annual-mainstream-conference or contact
413.587.7313 or email fallconference@clarkeschools.org
Additional Conference Features  – Educational and collaborative workshops covering the many facets of hearing loss, its implications for learning and how those who interact with these children can best help them. Topics include but are not limited to:
An Exhibit Hall showcasing the latest products, technology and services
The opportunity to attend the theatrical production – Silent NO MORE on Thursday night, October 24, 2019
Strategies to address late intervention
Self-advocacy
Engaging parents with professionals
Audiologists and teachers of the deaf collaborating
Social emotional learning thru expressive therapies
Teachers of the deaf and classroom teacher collaboration
Learning Lab on Cochlear Americas wireless technology
Learning Lab on MED-EL internal and external technology
Itinerant Round Table
Parent Round Table
Speech language pathologist and Teachers of the deaf Round Table
 Making Connections! Program – NEW this year – Making Connections is open to students in grades 5-12. While parents attend workshops, students get to spend the entire day with peers learning self-advocacy and social skills in a safe and nurturing environment. Co-facilitated by two of Clarke's itinerant teachers of the deaf, Emily Snow and Michael Marchetti, this program does not disappoint.