When:
2020-10-24T00:00:00-04:00
2020-10-25T00:00:00-04:00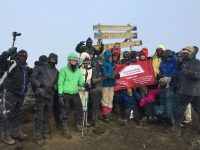 Wenham, MA, October 24th, 2020. In partnership with Kupenda for the children and Waypoint Adventure. Free. In 2016, ​Kupenda for the Children partnered with Waypoint Adventure to take a group of three Kenyan youth with disabilities up Mt. Kilimanjaro to highlight the value, purpose and strength of these particular individuals and to bring attention to the human rights issues that exist in East Africa.
* This film and panel discussion will include a Q&A session with Cynthia Bauer, founder/director for Kupenda for the Children, Julia Spruance, program director for Waypoint Adventure, and Kenyan youth who hiked Mt. Kilimanjaro.
* Arrive as early as 6 p.m. to meet the Kenyan youth, filmmaker, guides and Kupenda's co-founders.
* Free admission – however please fill out www.gordon.edu/lavida50/register to let the host know you're planning to attend.
* To request an accommodation or for inquiries about accessibility, please contact lavida@gordon.edu.