When:
July 21, 2018 – July 22, 2018
all-day
2018-07-21T00:00:00-04:00
2018-07-23T00:00:00-04:00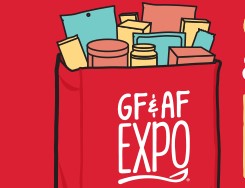 DCU Center in Worcester, July 21st & 22nd, 2018. For the special diet consumer, including the Celiac community, those with gluten sensitivities, auto-immune, inflammatory diseases and autism. There will be an vendor fair with over 100 exhibitors, classes related to the gluten free and allergen-friendly lifestyle, and authors, bloggers and workshops.
Speakers include:
Vanessa Weisbrod, Evaluating and Overcoming the Nutritional Deficits and Added Costs of Gluten-Free Products. When talking about living with celiac disease, we most often discuss gluten as being toxic. But, what we don't often look at is why gluten is beneficial in food and what happens nutritionally and economically when we take it away to make gluten-free products. Vanessa will discuss research from around the world that evaluates the nutritional properties and cost of gluten-free specialty products and compares it to their gluten-containing counterparts, and ways to overcome these challenges to live a nutritionally balanced and cost effective gluten-free lifestyle.
Restaurant and Travel Essentials for Gluten and Allergy Free Living. Kim Koeller, author of Let's Eat Out Around the World Gluten Free and Allergy Free, and who manages her celiac disease and multiple food allergies, will share her travel insights from visiting all 50 States and six continents. Learn tips for ordering safe meals in ethnic restaurants including hidden ingredients, food preparation and cross-contact considerations. Discover gluten free and allergy friendly apps and other tools for dining in restaurants and traveling. Hear suggestions for snacks, airlines, hotels, foreign speaking countries and more.
Detoxing the Gut Naturally – A Safe and Effective Way to Cleanse the Gut with Essential Oils. Learn how to naturally detox and cleanse the gut to improve digestion, ditch toxins, and improve your focus and energy levels. With Jenna Drew Dancy, a Celiac and health coach.
Fees apply, registration required to https://gfafexpo.com/expos/worcester/classes  or contact  630-473-3202.