When:
July 22, 2017 – July 23, 2017
all-day
2017-07-22T00:00:00-04:00
2017-07-24T00:00:00-04:00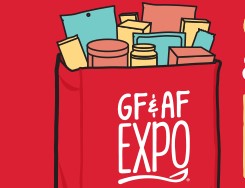 DCU Center in Worcester, July 22 & 23, 2017. For the special diet consumer, including the Celiac community, those with gluten sensitivities, auto-immune, inflammatory diseases and autism. There will be an vendor fair with over 100 exhibitors, classes related to the gluten free and allergen-friendly lifestyle, and authors, bloggers and workshops.
Speakers include:
Amy Fothergill. Amy was trained at Cornell University's School of Hotel Administration. She never thought her culinary skills would be necessary to manage her family's special diet but has found her cooking knowledge has come in handy. Currently she is a cooking instructor, consultant, blogger, and author of a gluten-free cookbook, The WarmKitchen.
Dr. Jaclyn Debs. Dr. Debs was awarded the Chiropractic Science Division excellence award, and has been working in a family wellness practice, focusing on getting infants started on the right journey towards health and wellness through chiropractic. She is a member of the Massachusetts Chiropractic Society and International Chiropractic Pediatric Association.
Jen Cafferty, CEO, The Gluten Free Media Group. Jen Cafferty is "all things gluten free." and is a nationally recognized expert on connecting gluten-free brands to consumers.. Jen and her family follow restricted diets due to a of variety health concerns. Jen collaborates with numerous CPG brands and retailers to ensure they are attaining their full marketing potential when reaching the free-from customer.
Mia Moran. Once 85 pounds overweight and exhausted with 3 small children, Mia turned to a gluten-free diet to lose the weight. Soon afterward, she dedicated herself to helping her daughter feel better. Now she teaches simple solutions for moms to eat clean, gluten-free foods, and create a more peaceful family rhythm around meals..
Dr. Myron H. Brand. Dr. Brand teaches at Yale University School of Medicine as a Clinical Professor of Medicine. He is the Medical Director of the Yale-Shoreline Endoscopy Center in Guilford, Connecticut. He is a Fellow of the American College of Gastroenterology and served three terms as Governor of the college representing Connecticut's gastroenterologists on state and national issues.
Nadine Grzeskowiak  -Founder of Gluten Free RN, Celiac Nurse Consulting, Professional Expert Speaker, Author of DOUGH NATION, Podcast: Gluten Free RN
Fees apply, registration required to  http://gfafexpo.com/locations/2017-worcester-ma/#classes  or contact  630-473-3202.