When:
2018-04-07T00:00:00-04:00
2018-04-08T00:00:00-04:00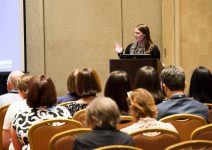 Waltham, April 7th, 2018. "Success Strategies for Individuals and Families Impacted by Fragile X" is for families and professionals who live and work with Fragile X Syndrome, Autism Spectrum Disorders and their daily challenges. The conference will feature information about Fragile X Syndrome relevant to families, educators, clinicians, researchers, and other professionals.
* Held on the Boston Children's Hospital, Waltham campus. Free on-site parking available for all attendees.
Fees apply, registration is required to https://fragilex.org/event/success-strategies-individuals-families-impacted-fragile-x/ or for more information contact westernma@fragilex.org.
Schedule of Events: 
Opening remarks: Jonathan Picker, MBChB PhD.
Main presentations:
* Behavioral Management Strategies in FXS: Jennifer Epstein, PsyD.
* Current Medications and Future Investigations: Craig Erickson, MD.
Breakout sessions: these simultaneously-running small-group dialogues, taking place over two 30-minute sessions, will be collaborative lectures will be structured around "toolkits", or tangible techniques and activities for families and providers, and will be a time for open dialogue with presenters.
* Newly Diagnosed Families (first session would be a structured presentation, and second would be open Q&A): Sharyn Lincoln, MS CGC.
* Advocacy and Self-Advocacy: Denise and Kelly Devine.
* Liaising with Schools and the Educational System: Lisa Prock, MD MPH.
* Behavioral 'Tips and Tricks': Jennifer Epstein, PsyD.
* More About Medications: Craig Erickson, MD.
* Neuroscience and Identification of Biomarkers in FXS: Carol Wilkinson, MD PhD.
Sponsor a Family or Speaker: For sponsorship information, including information on sponsoring a speaker or family's attendance, contact Denise Devine at: WesternMA@fragilex.org.
Need-based scholarships are available. Contact Katherine.Pawlowski@childrens.harvard.edu for more details.