When:
2020-11-09T00:00:00-05:00
2020-11-10T00:00:00-05:00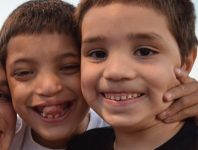 Virtual Support, November 9th, 2020. Free, with Foundation for Faces of Children in Brookline, MA . This event is for parents living in one of the New England states only. Foundation for Faces of Children is hosting their first "Virtual Parent to Parent Support Group" to parents of New England.
7:00 pm – Panel of 3 sets of parents with children in various stages will share their experience.
7:30 pm – Divide into smaller age-based break out sessions, which will be supported by a medical professional, to allow for more in-depth discussions / open Q&A.
Boston Children's Hospital professionals attending to provide support:
* Ingrid Ganske, MD (Department of Plastic & Oral Surgery)
* Olivia Oppel, RN (Maternal Fetal Care Center)
* Dorothy MacDonald, RN, retired
You can hear from other parents, share your experience, bring your questions to other parents and professionals. There will be parents of all ages of children with craniofacial and Cleft Lip/Palate conditions from newborn to 18 years old in attendance.
Please RSVP by October 30th at https://forms.gle/wRPFLYUzMc7urXM29
The zoom sessions and the discussions are confidential and won't be shared with any organization or third party.
The Foundation for Faces of Children is dedicated to improving the lives of children with craniofacial differences, including cleft lip, cleft palate, and other head and facial differences.