When:
September 10, 2020 – October 29, 2020
all-day
2020-09-10T00:00:00-04:00
2020-10-30T00:00:00-04:00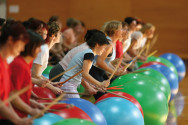 Online through October 29th, 2020 with the Arc of Bristol County's Family Support Center. For families with special needs of all ages. Drums Alive® is a movement-based fitness program that allows all participants to engage at their level: from novice to expert drummer.
About Drums Alive:  Drums Alive® is a research based, unique fitness/wellness program that captures the essence of movement and rhythm and combines it with fun. Ability Beats is full of powerful and motivating music and drumming rhythms that get feet stomping and bodies moving. The original whole brain and whole body program that allows individuals of all ages and all abilities to participate without ever having picked up drum sticks before
Drums Alive® Ability Beats also:
* Strives to unlock limitations and empowers participants with "abilities" to achieve a healthy, happy lifestyle
* Fosters creativity through a brain/body workout that integrates kinesthetic awareness, neuromuscular skills,
cardiovascular conditioning, flexibility, and strength.
* Provides opportunities to build on social skills and cognitive learning.
* Offers sensory stimulation while keeping participants engaged in the activity for extended periods of time.
For more information visit the Arc of Bristol County's calendar https://www.arcnbc.org/get-involved/event-calendar.html/calendar/2020/9 , or contact info@arcnbc.org or 508-226-1445.