When:
2020-08-25T00:00:00-04:00
2020-08-26T00:00:00-04:00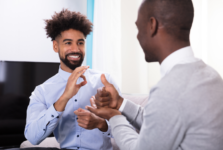 Video Conference Conversation – August 25th, 2020. The Disability Law Center is looking for your input on the issues of concern impacting people who are Deaf, Hard of Hearing, Late-Deafened, and DeafBlind.
* They want to hear from persons with disabilities, family members, and others knowledgeable about the systemic barriers faced (such as access to effective communication in health care settings, interactions with law enforcement, educational settings, other systemic discrimination issues, etc).
* They will be using the information you provide for their annual priority setting process.
* Your input will inform the work they do in 2021.
** Space is limited and registration is required to participate **
** Registrants may participate by telephone **
* ASL Interpreters and CART have been confirmed.
Tome la encuesta en español www.dlc-ma.org/prioridades/
Register to www.dlc-ma.org/event/august-25-forum/ or submit any accommodation requests to Amanda at 617-315-4440 or agasparonis@dlc-ma.org by no later than August 18th, 2020.