When:
2018-02-08T00:00:00-05:00
2018-02-09T00:00:00-05:00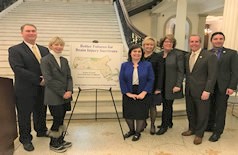 Boston, February 8th, 2017. Join the Brain Injury Association of Massachusetts for their 2018 Advocacy Day at the State House. This event will be attended by legislators, brain injury survivors, volunteers, and BIA-MA employees to emphasize the importance of continued legislation to bring services and supports to individuals with brain injury.
For more information visit www.biama.org/index.html  or contact (800) 242-0030 TTY: (508) 948-0593  biama@biama.org
About the host: BIA-MA provides Support & Resources to brain injury survivors and their families; Prevention Programs to educate the public on the impact of brain injuries; Education & Training for brain injury survivors, caregivers and professionals; and Legislative Advocacy for improved community services and safety laws, such as seat belts, helmets and more.
* BIA -MIA sponsors more than 50 support groups throughout Massachusetts.