When:
2020-04-08T00:00:00-04:00
2020-04-09T00:00:00-04:00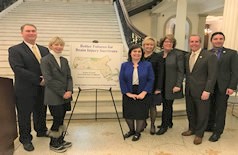 Boston, April 8th, 2020. UPDATE – This event has been cancelled due to COVID-19. As April is brain injury awareness month, please take a moment to call your state Senator and Representative to share your personal story and speak about brain injury.
Follow this link to find my  legislator. https://malegislature.gov/Search/FindMyLegislator
Please stay tuned for other advocacy constant contacts for action needed to advocate for funding for the Statewide Head Injury Program (SHIP) and the cognitive rehabilitation bill.
Join the Brain Injury Association of Massachusetts for their 2020 Advocacy Day at the State House. This event will be attended by legislators, brain injury survivors, volunteers, and BIA-MA employees to emphasize the importance of continued legislation to bring services and supports to individuals with brain injury.
*  This year the BIA-MA will be honoring Brain Injury Commission Co-Chairs Senate President Emerita Harriette Chandler and Representative Kimberly Ferguson and Commission Members Senator Dean Tran and Representative Gerard Cassidy.
* A luncheon will be provided and will give attendees the chance to meet other advocates. Attendees will then have the opportunity to walk the halls of the State House and visit their legislators' offices, share their personal story, and speak about brain injury.
To register or for more information visit www.biama.org/index.html  or contact Kelly Buttiglieri at kbuttiglieri@biama.org.
BIA-MA provides Support & Resources to brain injury survivors and their families; Prevention Programs to educate the public on the impact of brain injuries; Education & Training for brain injury survivors, caregivers and professionals; and Legislative Advocacy for improved community services and safety laws, such as seat belts, helmets and more.
* BIA -MIA sponsors more than 50 support groups throughout Massachusetts.