When:
2021-01-16T00:00:00-05:00
2021-01-17T00:00:00-05:00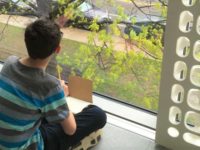 Online only, January 16th, 2021, with the Boston Museum of Fine Arts. For teens with Autism Spectrum and Aspergers Disorders ages 13 to 18.
* Focus on specific art topics and incorporate discussion, critical inquiry, and sketching in the galleries. Students then work independently on a project with guidance from an experienced instructor.
January Theme: January's Theme: Amazing Animals. Why is there so much art about animals? Animals have always been vital to human cultures around the world, and artists show this important connection in a variety of different ways. Look at examples of animals in art from different cultures and time periods, and then make your own special animal sculptures.
* Online classes meet via Zoom.
* If you would like to receive a materials kit, please make sure to provide a mailing address when you purchase your ticket.
Fees Apply, registration is required to www.mfa.org/programs/community-programs/beyond-the-spectrum or artfulhealing@mfa.org or 617-369-4027.