When:
2020-03-31T00:00:00-04:00
2020-04-01T00:00:00-04:00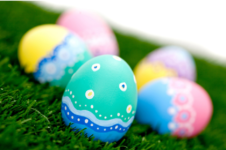 Watertown, April 4th, 2020. UPDATE: Due to concerns from the Coronavirus, this event is cancelled. Please visit the event link below for more information from the host.
Registration for ANY of the events is required. Free for all families. The Beeping Egg hunt is is a specialized event for students with visual impairments and their families.
* Accessible for children in strollers and wheelchairs.
* Sighted family members are welcome to assist in finding eggs, but are asked to be mindful of the visually impaired participants. Perkins will be supplying the egg hunt bags, and all beeping eggs must be returned to Perkins after the hunt.
* For the Sensory Egg Hunt – please register clearly  and accordingly on the website.
*  Perkins will also have a photographer present to take pictures during the event. Please see the disclaimer on the page about consent.   
REGISTRATION IS required to www.perkins.org/get-involved/events/beeping-egg-hunt   or contact Rachel Bennett at Rachel.Bennett@Perkins.org or 617-972-7573.