When:
2019-05-03T00:00:00-04:00
2019-05-04T00:00:00-04:00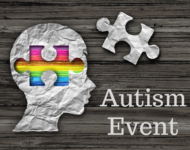 Ledyard, CT, May 3rd, 2019. The Autism Education Conference hosts speakers with fresh perspectives, valuable insights, and practical strategies on autism education. Therapists, educators, parents, related service providers, and anyone interested in learning more about this field are invited to attend.
* The conference includes:
Multiple presentations covering a range of topics
Speakers from all over the country who are leading experts in their field
Networking with speakers, exhibitors, and other conference attendees.
Keynote Address – I BELONG, with  ROBIN FOX & DR. PEG DONOHUE
Fees apply, registration is required to www.lhcampus.com/aec2019   or contact The Light House 860-445-7626 mtroy@lvecenter.com
More workshops include:
AUTISM SERVICE DOGS – The Powerful Impact Service Dogs Can Have on Children with Autism (with KATY HARRISON OSTROFF). The conference workshop will address how Service Dogs can affect the lives of children with autism and their families.
KNOWLEDGE IS POWER – How Relationship and Sexuality Education Can Help Keep Students with Developmental Disabilities Safe. With KATIE HANLEY.
DIR/FLOORTIME. A Developmental/Relational Play Therapy Model of Intervention for Children Impacted by Autism Spectrum Disorder and Sensory Processing Challenges.  With DR. ESTHER HESS
EXHIBITOR SESSION
POSITIVITY – Positivity™ is an online behavioral solution to support classroom management, empower students' self-regulation, and automatically collect behavior-related data.
SPEAKERS
Dr Esther B. Hess, Ph.D. is a developmental psychologist and executive director of a multidisciplinary treatment facility in West Los Angeles, CA, Center for the Developing Mind. T
Christopher R. Bugaj, MA CCC‐SLP is a founding member the Assistive Technology Team for Loudoun County Public Schools. Chris hosts The A.T.TIPSCAST
Dr. Peg Donohue – Peg is an Assistant Professor in the Counselor Education and Family Therapy Department at CCSU and Coordinator of the School Counseling Program.
Robin Fox M.Ed. Robin is an award-winning educator and professional improv actor, has worked in private and public schools, K-12, as a special educator, professional trainer, and consultant for over thirty-five years.
Katy Harrison Ostroff, LICSW is the Manager of Client Services for NEADS World Class Service Dogs.